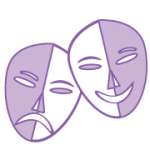 Lifetime of Acting
You know the emotions and tone of your script. Or, you don't. Either way, Rachael draws from a lifetime of acting and emotional study to strike the perfect chord for your piece.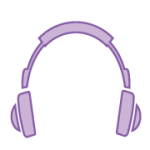 Acoustician
You want the best sound for your production and Rachael delivers with top-of-the-line equipment like a Neumann TLM67 microphone while recording inside a custom sound booth designed just for her by an acoustician (fun word!)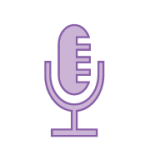 The Right Chord
Your final audio shines for your audience's ears and connects to their hearts. Whether you want to educate, inform, persuade, incite action, entertain or more — Your Script + Rachael's Voice = Just the Right Chord.
Rachael works with
Production Studios
Marketing Agencies
Producers
Script Writers
Sound Designers
eLearning Designers
Small Business Owners
Podcast Hosts
and many more.
Save time and beat your deadline
– let Rachael record for you.
"I have worked with countless VO artists in my career as a producer, and I can honestly say that Rachael is as good as they come. I'm not just talking about the quality of her voice and delivery files, but her professionalism is truly next level. In the 5+ years I have been working with her on our projects, there has not been a single time when my expectations were not met or exceeded. She takes direction extremely well, and her turnaround time is insanely fast. I wish we could hire her as a full time employee!"
"We produce hundreds of videos every year and deadlines are often tight. However we can never waiver on the quality of these productions. Working with Rachael West has made my job as a Producer much easier. Rachael's voice over work has been a huge asset for us. When I reach out to her for a project I always get a prompt response and typically have the voice over within a couple of hours. Rachael takes the time to understand the direction given for each production and always delivers."
"For us, achieving immersive audio depends greatly on the quality of the voices involved. …..If you're looking for a ridiculous quality turned around at "Are-You-Kidding-Me?" Speeds….look no further!"
"I would turn down David Attenborough to work with Rachael West. In the four years we've worked with Rachael, she's never failed to deliver perfection. I've often tried to figure out how she does it, how her voice adds so much in a way no other artists I've worked with ever could, but I've never cracked the code. It's like listening to someone perform a magic trick with their voice. Rachael is a secret unsung titan of the vocal industry."
"I would turn down David Attenborough to work with Rachael West. In the four years we've worked with Rachael, she's never failed to deliver perfection. I've often tried to figure out how she does it, how her voice adds so much in a way no other artists I've worked with ever could, but I've never cracked the code. It's like listening to someone perform a magic trick with their voice. Rachael is a secret unsung titan of the vocal industry."
"Rachael is my secret weapon for elevating projects and wowing clients. Her warm, thoughtful & familiar voice has fit perfectly in a wide range of scripts. Her turnaround is lightning fast, and she always nails delivery."
"Rachael is a pleasure to work with. She's very professional, timely, and flexible. I know that whatever project I come to her with, she'll deliver the perfect VO."
"Working with Rachael is always a joy. Her interpretation and delivery of a script never disappoints. Rachael has an incredible voice, which is why of course she gets return business from me. Then, there are all the added bonuses of the other boxes that get checked by her in the creative process: Great sounding studio – Quick turnaround time – Clean edited audio – Excellent Communication via email – and Rates that fit my budgets."
"Doing business with someone as professional and talented as Rachael is refreshing. Her attention to details makes it easy to provide professional learning opportunities for my organization. Every time I partner with Rachael to record a project, she WOWs me with her response time."